Keywords:
oil, canvas, Figurative
Perri Neri earned a MFA in Painting with Distinction from The Pratt Institute in Brooklyn, New York. Since that time she has had three solo exhibitions in New York City and St. Petersburg, FL and several group exhibitions. Neri is currently represented by The Painting Center in New York City. She is also one of the founders and Archive Director of Refrigerator Poetry Visual Art Archive.
Perri Neri is a figurative painter interested in themes of identity, memory, and the multiplicity of realities necessary to get to a truth beyond reason. Neri lets go and follows her instinct to make an art about the ways a body experiences anxiety, fear, desire, passion, hope, joy…"
Uprooted, unsettled, and making art on shifting ground, Neri's materials are simpler and the work more complex. Destabilized and with the deliberate-ness of uncertainty, she discarded the stretcher bar structures and loosely stapled the soft linen canvas to the studio wall. With no fixed ideas, she embraced the risk and the change and the transformation that comes from the act of making. Some canvases are allowed to slip down the wall, others extend further onto the floor.
Neri draws and re-draws with paint, showing the process of developing the figure as it moves within the space. Multiple lines result in a layering of forms, and all the marks are absorbed into to the fabric of a canvas that holds onto them like a memory.
Using a limited palette of brilliant and luminous red, blue, and yellow, some body parts are painted into focus while others remain drawings. Nude figures are coupled, stretched, fragmented, and expanded. Quick angles against slow curves produce a speed to the eye. "I started drawing the white lines as a way to map out the energy and movement." Neri explains, "These lines, or rays of light, do not bounce off fleshy surfaces, they penetrate and drive through. I like that."
Exhibitions featuring work by this artist.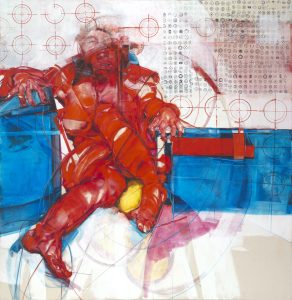 Target, 2020, oil on canvas and magazine pages,
60″ x 60″
My current body of work is in part a response to a patriarchal structure and a dominating power system that has survived generations of political protests and the fight for equality. – Perri Neri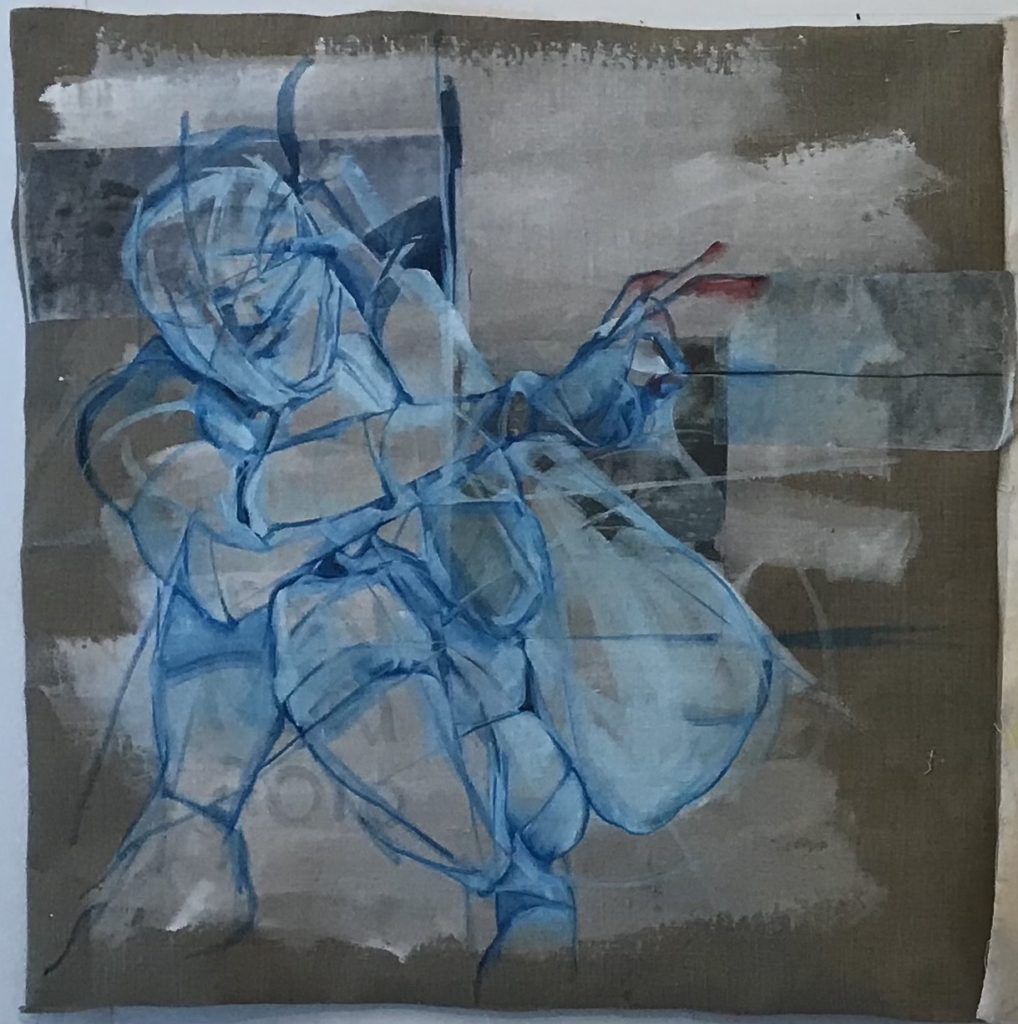 Blue Line, 2021, oil, acrylic, & magazine pages on un-stretched linen, 30″ x  30″