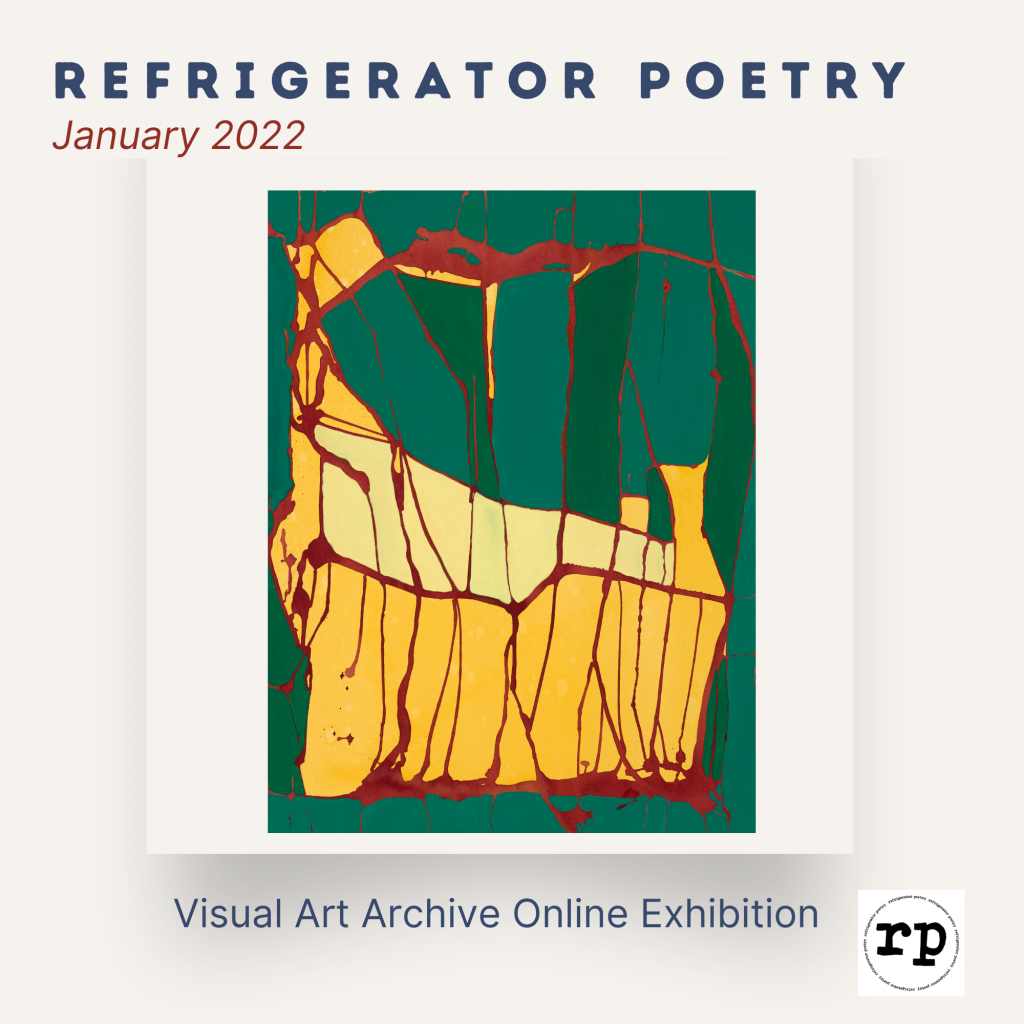 Refrigerator Poetry Visual Art Archive is proud to present the January Online Exhibition through January 31st and archived in perpetuity.
January 2022 Catalogue 
REFRIGERATOR POETRY JANUARY 2022 features artwork completed within the last year by eight national and international artists. Refrigerator Poetry can be defined as a multiplicity of voices being created out of the experiences being had in the moment. Each piece carries a unique personal and social charge, intuitiveness, and emotional authenticity.
Refrigerator Poetry's January 2022 Exhibition, organized by the Archive Director and co-founder Perri Neri, offers a conversation between artists who broadly range in their formal approaches and in the memories they summon. Indulging the artistic will of the moment could describe the artists represented in this month's exhibition. Whatever lies between the natural alchemy of the artist, and their desire to make sense of the world through artmaking, has collided and bristles with emotion. Each piece carries a unique personal and social charge.
Gerri Rachins's painting is timeless in that it authentically distills and transmits our unsettled emotions while offering calm resolve. Dianna Woolley's, Fruit Salad, utilizes intense thick marks against throbbing backgrounds that gives us the sense of abundance and comfort. Perri Neri's figurative oil on un-stretched linen captures the dislocation of our times and remind observers that experimentation is an act of freedom. The deliberate-ness of uncertainty reveals itself in Mark T. Wright's Crucifixion with rhythmic patterns appearing and dissolving. Vian Borchert's watercolor offers a quiet meditation with nature, a landscape strangely and beautifully exposed. Ginnie Gardiner's sensitivity to pure colors, their intensity and complexity allows the painting to feel like it will catch sail with the slightest bit of air. Rita Holcberg's, Symphony in Pink 3, starts with an instinctive passion, floating in and out of focus with somber melancholy. Susi Raphael's canvas presents a chaotic field of data, a narrative of figurative gesture symbols.
Featured Artists:
Vian Borchert – Washington, DC
Ginnie Gardiner – Catskill, NY
Rita Holcberg – São Paulo, Brazil
Perri Neri – Tampa, FL
Gerri Rachins – Boston , MA
Susi Raphael – New York City, NY
Dianna Woolley – Williamsburg, VA
Mark T. Wright – Sugar Grove, NC