News Reports from Planet Earth
Comment:
This painting came out of the period of Covid lockdown where I was very isolated in my own home but connected to the world beyond through news and social media. What was happening in the world- racial injustice, immigration, a presidential election, the climate crisis. But my physical world had shrunk so small I felt I was on another planet reckoning with all of this, alone, from a distance.
Keywords:
Acrylic, Canvas, Escapism, Contemporary Painting,
Bekka grew up the child of two teachers who immersed her in art, literature, mythology, and history. Her family moved many times and she coped with this transient upbringing by escaping into daydreams and fantasy, and built a sense of home in her mind to take wherever she went. Moving frequently made her (for better or worse) always the outside observer and allowed her to always make connections in her mind between very different places, things, experiences that she collected along the way. In her work, she creates magical realist landscapes full of symbolism and commentary on the world around her. She has a BA from Brandeis University in Painting with a minor in Creative Writing and an MFA in Cinema-Television Production from the University of Southern California. She currently lives in Medford MA.
My painting begins with a meditative moment. I sit, aware of my body and my thoughts, in the present moment, in this world. I acknowledge my worries, the present moment. What concerns me? What is real to me, right now?  What happened here before I existed here, and what will happen after? I take fragments of observations, memories, day dreams, anxieties of the future. Collect, rearrange, overlay, and let it go. There is so little time, yet so much of it too. I want to hold onto this present moment, as transient as it is, and celebrate the beauty of everything. But beauty cannot be separated from the fact that all things pass, all things come to an end.
More work by Bekka Teerlink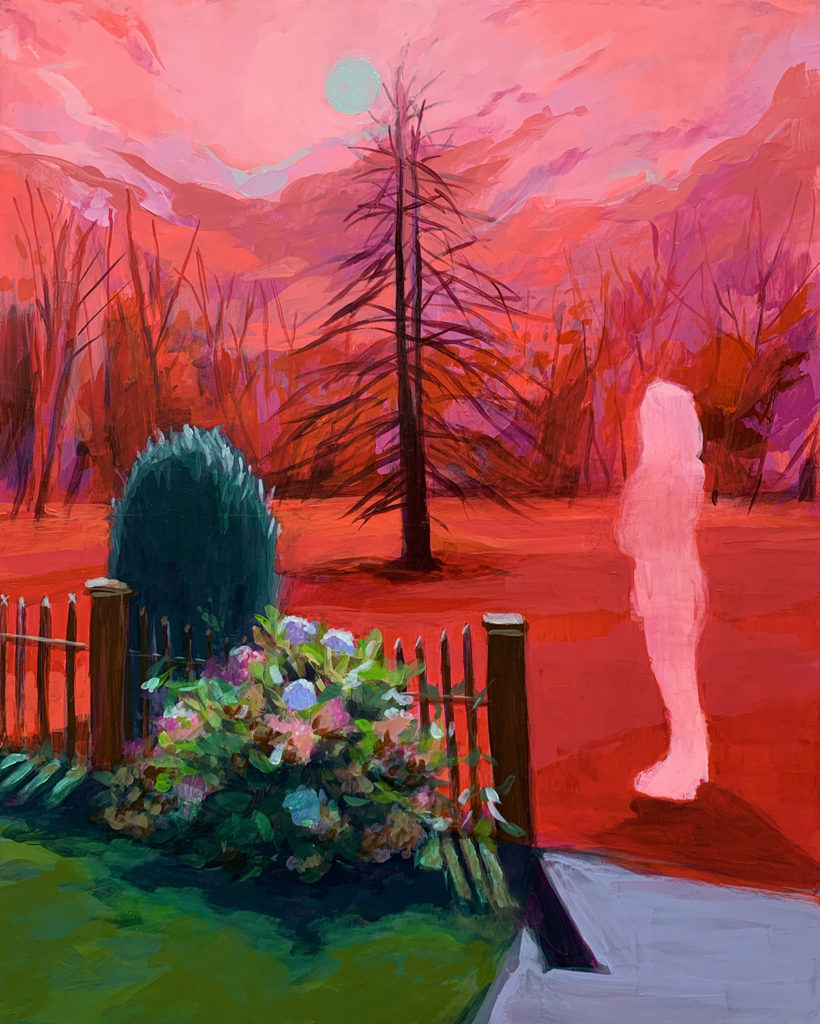 Threshold
2022
Acrylic on Panel
20 x 16 inches
Exhibition Catalogue:
Spring 2023
About this piece: "I live in a suburban area where there are lots of borders and fences all neatly laid out as if they are not made of the same earth. I think about these borders or "thresholds," places where you are one side or the other of a certain point. I also think about climate change, and how there is a threshold on the continuum of increasing carbon emissions. Do we really know what side we are on?"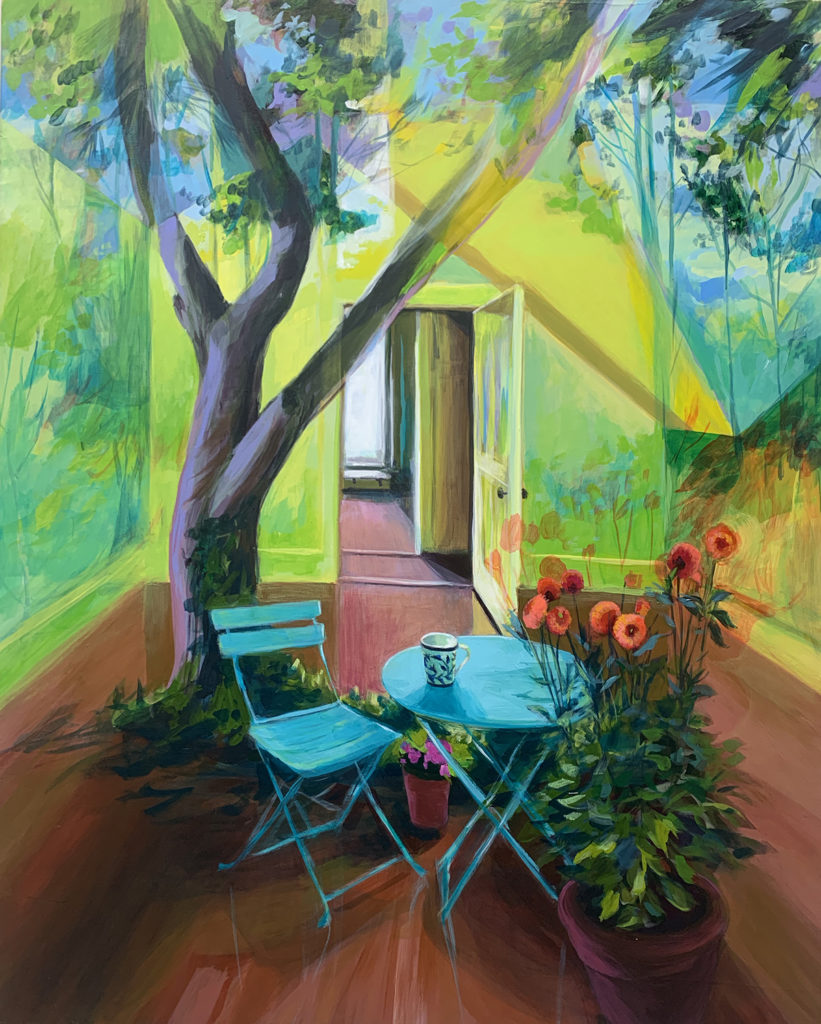 In My Room
2022
Acrylic on Panel
30 x 24 inches
Exhibition Catalogue:
Spring 2023
About this piece: "I had just bought a house when the first pandemic lockdown happened. As someone who loves to keep moving about the city, my life ground to a halt and my world became limited. But for the first time, I had a garden and I threw myself into developing that small space. This painting is about this small world, both with its finite boundaries and the infinite possibilities of my imagination."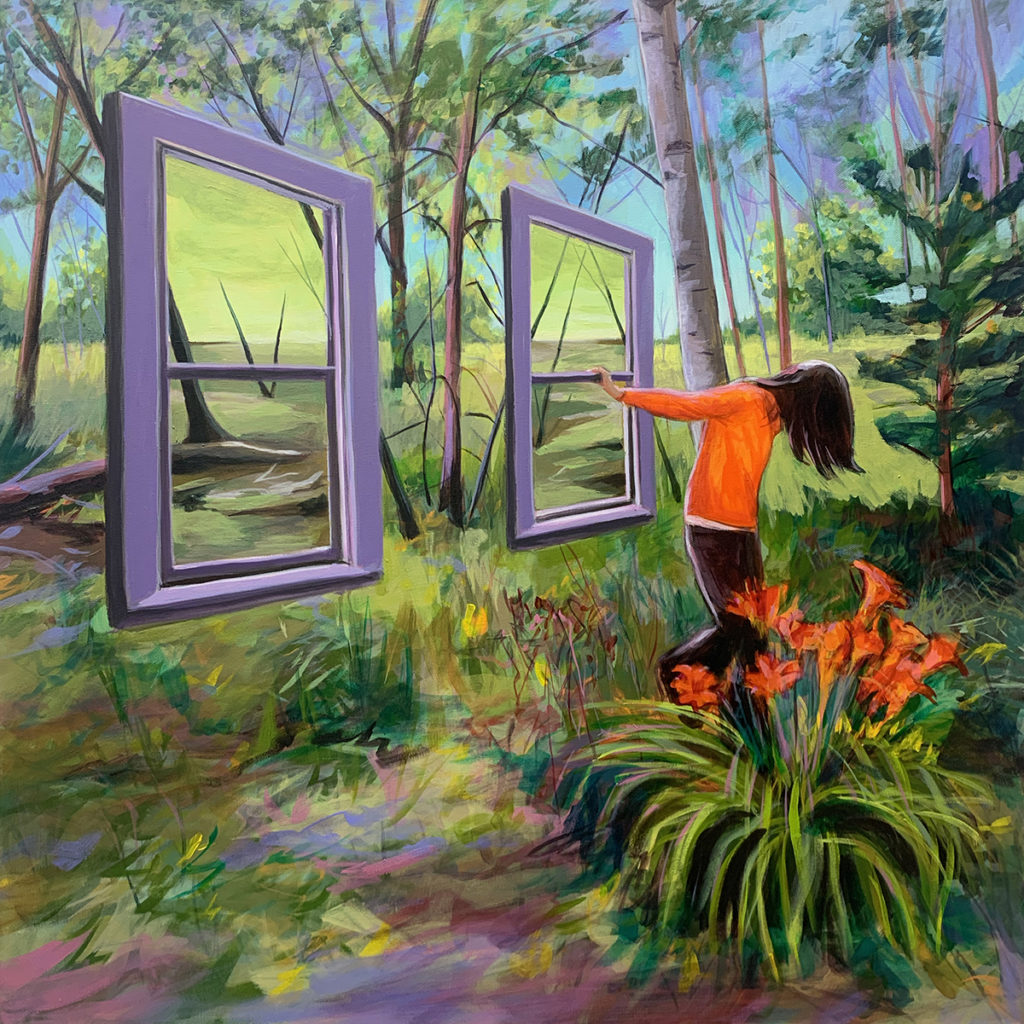 Escapism
2022
Acrylic on Canvas
30 x 30  inches
Exhibition Catalogue:
Spring 2023
About this piece: "I have a love of nature, and gardening, but also have an incredible fear of climate change. This painting is about escaping into a green world and planting flowers, and turning my back to the reality I don't want to face right now."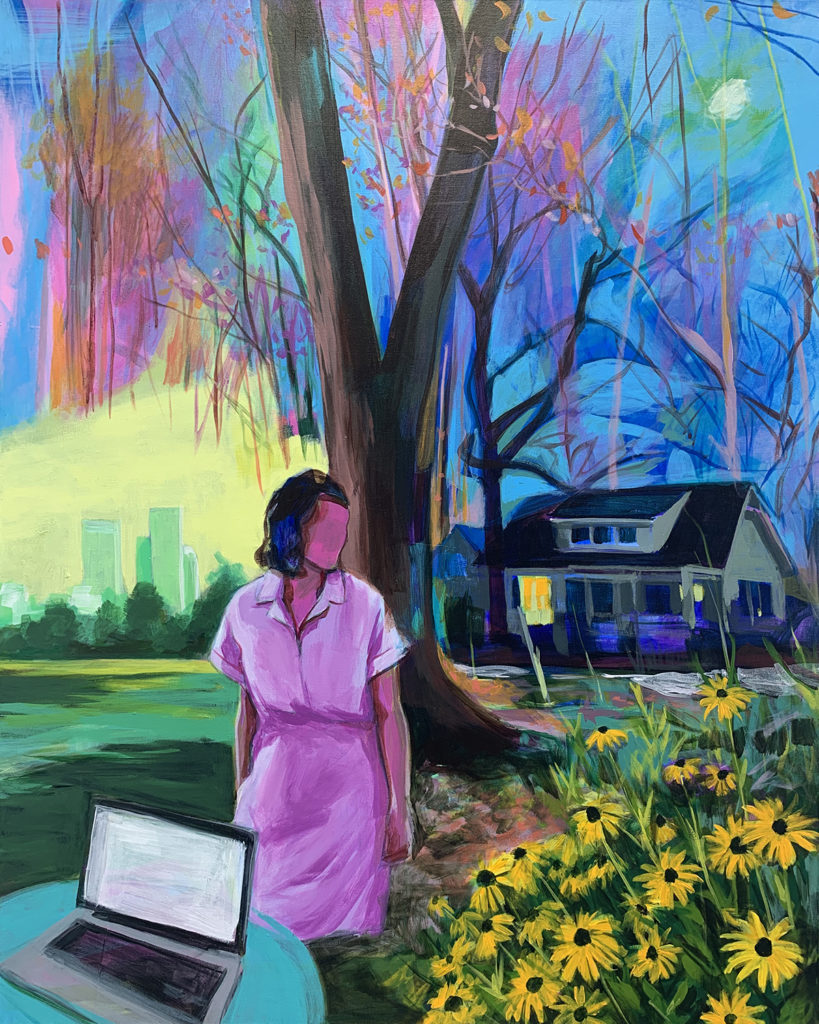 Hybrid
2021
Acrylic on Canvas
30 x 24 inches
Exhibition Catalogue:
Spring 2023
About this piece: "After working from home for a year, I returned to work in a hybrid format. This painting is about adjusting to that, and feeling split in half, and not fully in either realm."
Title
Info
Exhibition Catalogue:
Title
Info
Exhibition Catalogue:
Title
Info
Exhibition Catalogue:
Title
Info
Exhibition Catalogue:
Title
Info
Exhibition Catalogue:
Title
Info
Exhibition Catalogue:
Title
Info
Exhibition Catalogue:
Title
Info
Exhibition Catalogue: