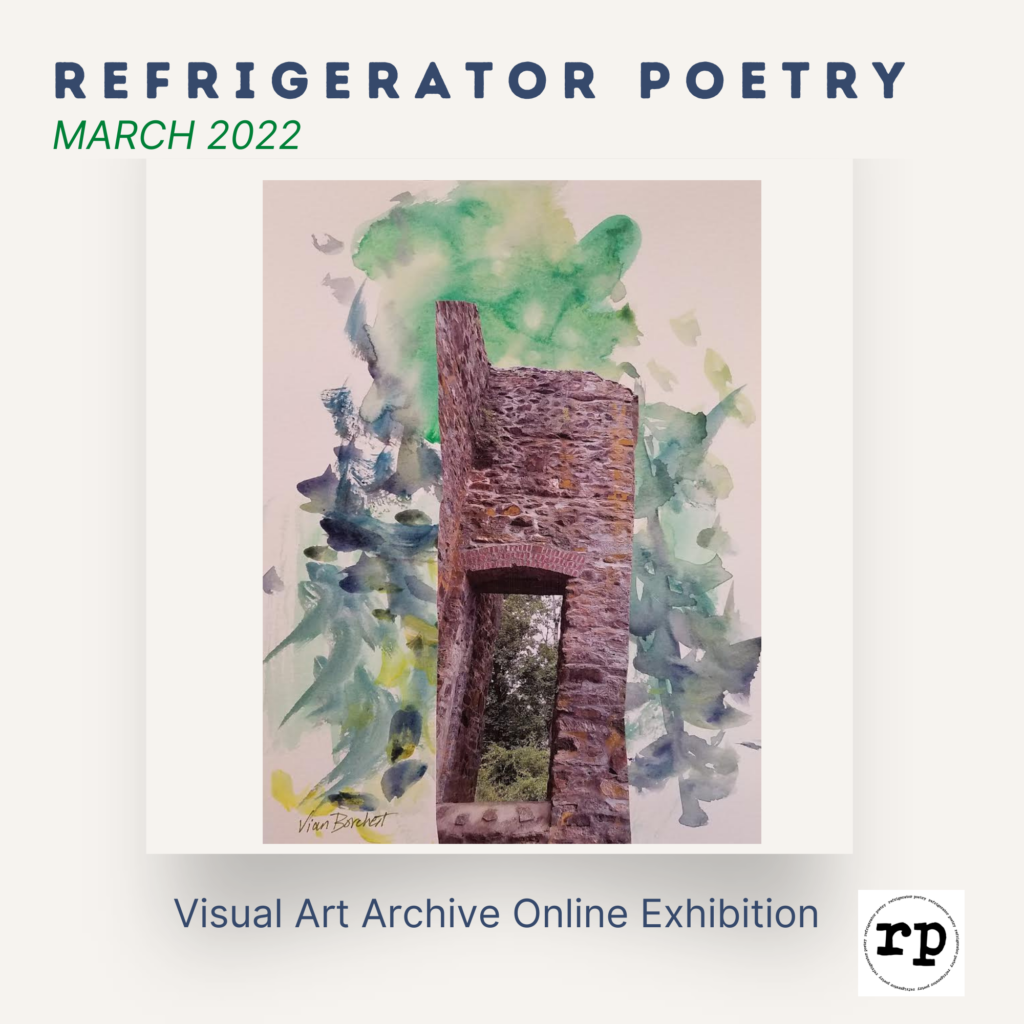 Refrigerator Poetry Visual Art Archive is proud to present the March 2022 Online Exhibition through March 31st and archived in perpetuity.
Participating Artists: Vian Borchert, Rita Holcberg, Perri Neri, Gerri Rachins, Susi Raphael, Regina Walker, Erin Williams, and Mark T. Wright
This month's exhibition features artwork completed within the last year by eight national and international artists. Refrigerator Poetry can be defined as a multiplicity of voices united by time. This is not a group show in the typical sense but more of a collaborative presentation. Each piece carries a unique personal and social charge, intuitiveness, and emotional authenticity.
The online exhibition, organized by the Archive Director and co-founder Perri Neri, offers a conversation between artists who broadly range in their formal approaches and in the memories they summon. Even though our exhibitions are not curated, there always seems to be something that connects these works together. This time it is architecture and transformation. Architecture has a unique position of understanding the human condition. And something is always happening in the transformations. You nail it down here, then it jumps up there as something else.  
Vian Borchert's "Green Antiquity" is filled with a gentle and quiet mood of wonder, imagining an alternate architecture that is flexible and free, embracing a past as a foundation for the new. Rita Holcberg's collage is an architecture of memory, tending to her past with the very human tendency to edit and re-edit the narrative, adding layers of new content and sensations to accommodate the demands of the present.
Perri Neri abbreviates the figure starting with an architectural sketch, mapping out extreme points of realism. "It's only the extreme points that are interesting." Then she abbreviates it into intensity with oils until the figure pulsates.  Gerri Rachins imagines chaos and disorder, hope and connection, not only through forms, but with methods of dealing with the consequences of change in spatial terms. She gives us a degree of complexity, even of contradiction of simultaneous growth and decay, that heightens and intensifies being alive.
Susi Raphael goes directly to the canvas and invites the element of chance. Her improvisations of gestural abstraction are the pure pleasure of process. Bodies absorbed into the materiality of paint, not grounded in any sort of architecture, and ready to collide into each other. Regina Walker photographs New York City architecture as an instrument for transformation – a philosophical study of the structure of consciousness.
Erin Williams' process of materials have the visual allure of abstract painting, an urban tumbling and shifting of the grid, a delicate scaffolding frames the feeling of expansion in the process of becoming. The stillness in the framework of Mark T. Wright's drawing leaves us with an anticipation of dynamism and change. The anticipation is the whole point. While the figure seems distracted, unaware that her  structure is exiting the edge of the painted boundary, invading the outside space.