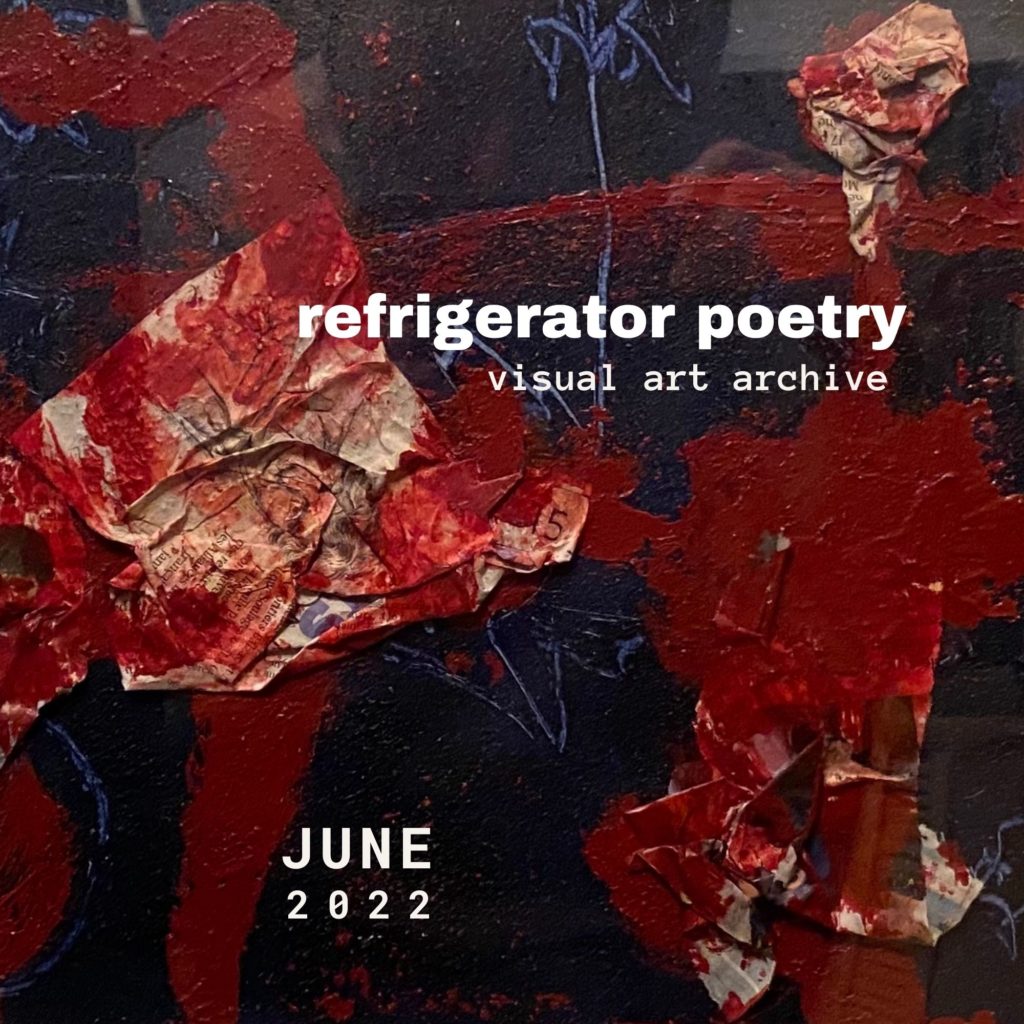 Refrigerator Poetry Visual Art Archive is proud to present the June 2022 Online Exhibition June 5 - June 30 and archived in perpetuity.
Refrigerator Poetry is pleased to present the June 2022 Visual Art Archive Online Group Exhibition. Refrigerator Poetry brings together many different kinds of practices, styles, and voices as an extension of social and cultural communal action through visual art. The nine artists in the month's exhibition have navigated at least two ruptures – the pandemic and a chaotic and political landscape. Every mark, every color, every gesture, and every material is charged with meaning. Each artist has their own way of thinking about how the instantaneity of an art can smack you right in the face in a moment.

In the wake of the mass shootings in the United States and debate over common sense gun laws, the boundaries of form and content dissipate, as medium and message are rendered interchangeable in Susi Raphael's Shall We Debate the Utmost Boundaries of Logic?  Perri Neri's painting Pique attracts us to the idea of being vulnerable by revealing the struggle to resolve a painting during this menacing and irrational time. Neri explains, "I understand that even my most successful work will not have the power to right the wrongs of a dominating power system. It is about finding the moments that help me breathe just a little deeper."  Gerri Rachins uses her language of light through the masterful use of multiple tonal variations in her landscape titled, A Sobering Revelation. Rachins explores the experience of sameness and difference, closure and openness, movement and stasis, and the function of the parts in relation to the whole.
As an artist, you are aware of the world around you. Pawel Jezak uses the literal awareness of a newspaper and then provokes us with an image in black and white, practically challenging us to write our own narrative. Obilala Nwankwo's hybrid of history and storytelling gives us just enough information to make us curious about the character's significant narrative in The General. Imagination, connection, and environmental justice are at the core of Rebecca Skelton's painting, Dziva, The Goddess With Skin the Color of Dirt, a powerful work that distills the importance of artmaking as a vehicle not just for its curative powers but for its ability to sustain and inform. Regina Walker's photograph titled Old Man, is of a painting in a storefront window on a NYC street corner. The juxtaposition of photography and painting is both provocatively psychological and brilliantly profound.
A dimension of structural elements recirculates object and image in Nichole Gronvold Roller's work titled Traveled. Roller's materials of choice are "leftovers…scraps worth saving," that emerge as a catalyst for a kind of mental connection that needs to happen in terms of rebuilding momentum. Vian Borchert's meditative watercolor has a sense of timelessness. We find ourselves in this ebb and flow where past, present, and future sort of blur.
Participating artists:
Vian Borchert – Washington, DC
Pawel Jezak – Ballivor, Meath
Perri Neri – Tampa, FL
Obilala Nwankwo – Lagos, Nigeria
Gerri Rachins – Boston, MA
Susi Raphael – New York, NY
Nichole Gronvold Roller – Tremont, IL
Rebecca Skelton – St. Petersburg, FL
Regina Walker – New York, NY