Completed: 2021
Location: Tremont, IL
Medium:
Ink, acrylic, transfer, underglase, earthenware, and wood panel 
Dimensions:
10 x 9 x 3 inches
Keywords:
abstract, acrylic, ink, shaped panel
Nichole Gronvold Roller is a painter who received a BFA in Art Education from Minnesota State University of Moorhead, an MA in Art Education from Boston University, and an MA in Painting from Bradley University. Gronvold Roller is represented by the BoxHeart Gallery, Pittsburgh, PA., and James May Gallery, Milwaukee, WI. Her paintings can also be found with Leslie Tyler Design, Peoria, IL., and The Painting Center (Art File), New York, N.Y.
"Food often tastes better the next day.  I have never been sold on the idea of leftovers until recently.  Over the past few years, I have collected a group of "leftovers"  or cut-off sections from an artwork series of geometric abstractions on shaped panels.  Seeing the scraps worth saving – I kept them, accumulating a pile of painted wood debris on my garage floor. After cutting new shapes, I started to stack, arrange, and rearrange the parts, finding an exciting contrast between the various application of colors and patterning.  The shallow clunking sounds of the wood stacked upon each other had a pleasing reminiscent sound of childhood, recalling stacking wood blocks to create structures, often houses and bridges."
"Eventually, I started to run out of the scraps from my shaped panel series, requiring me to create new parts with the remaining few leftovers.  I began working with clay because the medium allows for flexibility in creating organic, irregular shapes.  Influenced by domestic spaces, I refer to architecture and interior design, selecting fabrics and wallpaper designs from my recollection of the 1970s, merging with my current happenings and living space.   Extending to the outdoors, I include atmospheric washes creating a collage of mementos, journaling visual thoughts stacked upon each other, both past and present."
Other archived works by this artist.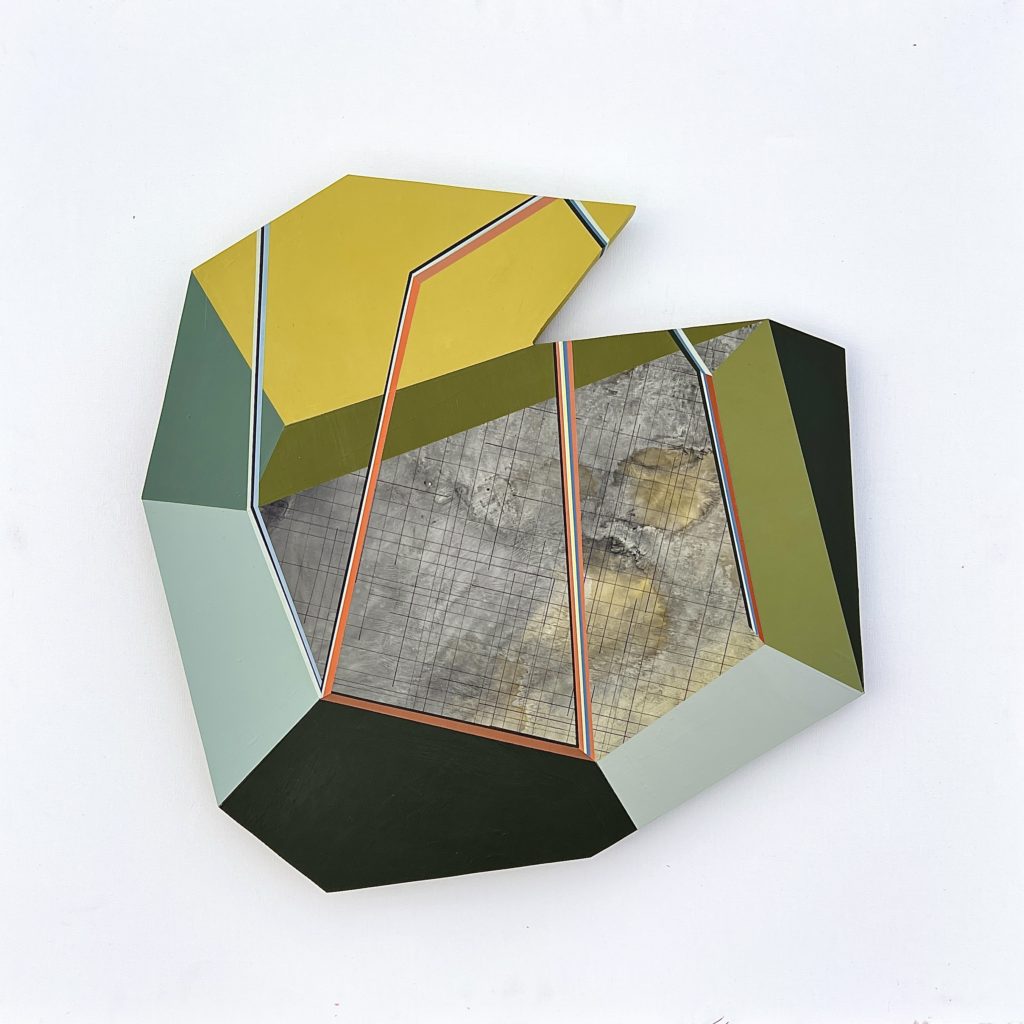 FEBRUARY 2022 Exhibition Catalogue
Nichole Gronvold Roller
Temont, IL
Pass Over
December 2021
Acrylic and ink on shaped panel,
25 x 14 inches
"My art responds to my immediate environment; I find a connection between fine art and design, architecture, and the landscape. The process of looking and experiencing my surroundings is an essential element for my art-making method. My abstract paintings are built upon a catalog of daily experiences within a framework of looking up, down, and through as I navigate throughout the day."